Walls and Countertops
Upcoming Course Dates
06-19-2021 through 06-20-2021
07-17-2021 through 07-18-2021
08-14-2021 through 08-15-2021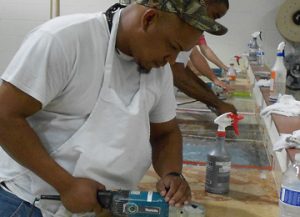 Course Overview
This course is two full days of intensive training on how to restore and refinish marble, granite, and quartz (engineered stone) countertops, as well as walls and showers. The majority of both days will be spent doing hands-on training, with some classroom lecture time. You will gain the experience you need to service your residential customers, as well as commercial and hospitality jobs, such as restoring hotel vanity tops and shower walls. This course will prepare you to tackle these jobs with confidence. Each class is limited to five students, so there will be plenty of opportunities to ask questions and get individual feedback. You will have your own tools to work with and your own work space, as well.
Course Topics
Masking and protecting
Proper equipment use
Honing, polishing (granite, marble, quartz/engineered stone)
Restoring the factory finish to engineered stone
Countertop seam repair
Minor repairs
Stain removal
Sealing of countertops and shower walls
Average rating:

41 reviews

Very Responsive

"Teacher was very responsive and was able to answer ALL questions with no issues."

Great Course Presentation

"What I liked most was how the delivery of the course was, where it is explained to a working class person and all hands-on work, where you learn and grow through your hands and their direction. Butch is an amazing person and teacher."

Years of Experience Training Us

"Loved the small and extensive hands-on training. We had years of experience and knowledge teaching us. Handouts w/instruction. Very well laid out."

Great Course

Great class. The size was perfect and the ability to ask questions.

Great Experience

Trainers great experience.Butch gave us lots of practical tips.He is great!Thankyou for 7 soaring days worth every bit!!!!