Master Course
Upcoming Course Dates
11-14-2020 through 11-22-2020
12-12-2020 through 12-20-2020
01-16-2021 through 01-24-2021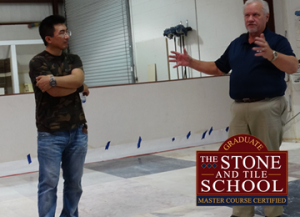 Master Course
The Master Course Certificate program, which includes both classroom and hands-on training, prepares the student to confidently enter into the stone and tile restoration trade. For those already in the business, it serves to increase their level of excellence, skill, and knowledge, enabling them to provide the most efficient and effective restoration procedures. There is a 10% discount on tuition for the Master Course program, compared to tuition prices when the course are scheduled separately.
The Master Course Certificate is earned when the student completes the following course:
What is a Master Course Certificate?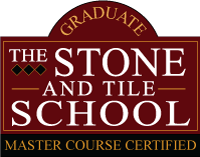 A Master Course Certificate enables professional stone and tile restoration contractors to provide proof of their training. Commercial and residential clients associate the Master Course Certified badge with confidence that you are qualified to successfully restore their stone and tile surfaces. The Master Course Certified badge is visible and tangible validation to be used on your business website, vehicle wraps, print material, and other marketing collateral to help you secure more work and promote your business with confidence.
Who should register for the Master Course Certificate program?
While we encourage anyone, from beginners to veterans, to register and complete the Master Course Certificate program, we offer a friendly word of warning to those who think it will be easy. Our students work hard and train intensely. In order to maintain the integrity of the Master Course Certificate program, our instructors require rigorous and meticulous participation from students. However, you will leave The Stone and Tile School armed with the skills you need to provide superior craftsmanship, knowledge of time-saving techniques to cut costs and increase revenue, and formal recognition of your course.
---
If you want to reach new levels of success by earning a Master Course Certificate,
contact us
online or call
(407) 567-7680
 today to register.
Average rating:

34 reviews

I Like the Way They Teach

"I have taken all of the hands-on classes. I loved the extensive hands-on. I like the way they teach, then allow you to go out and do the work. Thank you for the experience."

Course Built My Confidence

"This course built my confidence to jump on floor restoration ASAP! Thank you".

Great Training

Great hands on course. It met all my expectations. It was absolutely a great service.

Surpassed expectations

What I liked most about this course: Superior knowledge and level of expertise tailored to our needs. Approachability and poignant to our market. We received everything that was promised and more. Your service has surpassed any expectations we had by far...

Spot on course!

What I liked best about the course: Being able to listen to the theory in the classroom. Then to be able to go out on the floor to watch the instructor execute the theory properly. And then practice it myself until I was comfortable with the method. Spot on!This was a phenomenal course. I was very pleased to have been able to take part. All of the staff were cheerful and know their trade...