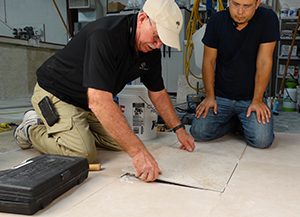 Training that fits your needs.
We can come to you.
An instructor from The Stone and Tile School can come to you and conduct customized training or consultation. Whether you are looking for a short training or support program covering basic or advanced concepts or dedicated support, The Stone and Tile School has a network of highly skilled professionals who can meet and exceed your expectations and help you achieve your objectives. To learn more, contact us online or call (407) 567-7680.
Ways we can help: 
Train your staff at your own or a client's location
Consult on procuring a large account
Help set up your own in-house training program
Help you troubleshoot and evaluate failures, potential projects and more
The Stone and Tile School can work with you to select and develop a personalized training plan to meet your specific needs, from an introductory or refresher course to more advanced training. We need to speak with you directly in order to thoroughly understand your objectives and requirements and to discuss pricing. Contact us online or call (407) 567-7680.