Walls and Countertops (Hands-on)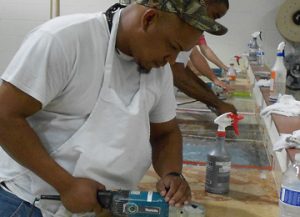 Course Overview
This course is two full days of intensive training on how to restore and refinish marble, granite, and quartz (engineered stone) countertops, as well as walls and showers. The majority of both days will be spent doing hands-on training, with some classroom lecture time. You will gain the experience you need to service your residential customers, as well as commercial and hospitality jobs, such as restoring hotel vanity tops and shower walls. This course will prepare you to tackle these jobs with confidence. Each class is limited to five students, so there will be plenty of opportunities to ask questions and get individual feedback. You will have your own tools to work with and your own work space, as well.
Course Topics
Masking and protecting
Proper equipment use
Honing, polishing (granite, marble, quartz/engineered stone)
Restoring the factory finish to engineered stone
Countertop seam repair
Minor repairs
Stain removal
Sealing of countertops and shower walls
---
People who take this course often also take…
Sales and Marketing. For business owners, managers and sales people, we suggest you take Sales and Marketing. This course covers how to price jobs and generate business.
Master Course (Hands-On). This course includes all three: Marble and Stone Restoration and Walls and Countertops, and Tile and Grout Cleaning/Sealing.
Average rating:
46 reviews
Very Responsive
"Teacher was very responsive and was able to answer ALL questions with no issues."
Great Course Presentation
"What I liked most was how the delivery of the course was, where it is explained to a working class person and all hands-on work, where you learn and grow through your hands and their direction. Butch is an amazing person and teacher."
Years of Experience Training Us
"Loved the small and extensive hands-on training. We had years of experience and knowledge teaching us. Handouts w/instruction. Very well laid out."
Great Course
Great class. The size was perfect and the ability to ask questions.
Great Experience
Trainers great experience.Butch gave us lots of practical tips.He is great!Thankyou for 7 soaring days worth every bit!!!!
Professional and a high level of expertise
I liked that the instructors were very professional and at the highest level of expertise. Very informative and a great investment.
Great Investment
I liked everything about these courses. Coming to this school is by far the best investment i've made thus far for my business. Thank you John and Butch. See you guys hopefully in May.
Lucky Day
It was a lucky day when I came across your marble and stone restoration school on line. It's been only 1 week or so, that I graduated in your school and now I am having meetings all over in Washington DC with high end commercial property management and real estate Agents. It's amazing the confidence I gained in your school in only 5 days. Doors are opening up left and right.I am looking forward to come back to your school to complete the rest of the classes.Ps; BTW I love your teaching style ! Less talk, lots of action!!!
Walls and Countertops (Hands-on)
| | |
| --- | --- |
| Instructor(s) : | Butch Stallings |
| Tuition Fee : | $1295.00 |
| Duration : | 2-Days |
| Course Type : | Hands-on Training |