Master Course
| | |
| --- | --- |
| Primary Instructor : | |
| Tuition Fee : | $4126.50 |
| Duration : | 9 Days |
| Course Type : | Essential Hands-on |
Upcoming Course Dates
08-10-2019 through 08-18-2019
09-07-2019 through 09-15-2019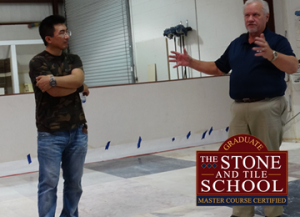 Master Course Certificate
The Master Course Certificate program, which includes both classroom and hands-on training, increases the level of excellence, skill, and knowledge of stone and tile restoration contractors, enabling them to provide the most efficient and effective restoration procedures. Any student may choose to complete training in one or more of the courses we offer, but the Master Course Certificate program includes all three essential hands-on courses. There is a 10% discount on tuition for the Master Course Certificate, compared to tuition prices when the courses are scheduled separately.
The Master Course Certificate is earned when the student completes the following courses:
What is a Master Course Certificate?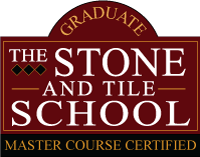 A Master Course Certificate enables professional stone and tile restoration contractors to provide proof of their training. Commercial and residential clients associate theMaster Course Certified badge with confidence that you are qualified to successfully restore their stone and tile surfaces. The Master Course Certified badge is visible and tangible validation to be used on your business website, vehicle wraps, print material, and other marketing collateral to help you secure more work and promote your business with confidence.
Who should register for the Master Course Certificate program?
While we encourage anyone, from beginners to veterans, to register and complete the Master Course Certificate program, we offer a friendly word of warning to those who think it will be easy. Our students work hard and train intensely. In order to maintain the integrity of the Master Course Certificate program, our instructors require rigorous and meticulous participation from students. However, you will leave The Stone and Tile School armed with the skills you need to provide superior craftsmanship, knowledge of time-saving techniques to cut costs and increase revenue, and formal recognition of your training.
---
If you want to reach new levels of success by earning a Master Course Certificate,
contact us
online or call
(407) 567-7680
 today to register.
Average rating:

16 reviews

Methods and Procedures are Excellent

The way everything is broken down and explained is done in a meticulous way that anybody can understand. Following the method will get you best results every time.

Amazing instructors!

I liked how much hands-on work I had. I also enjoyed how after every discussion in the classroom, I got to go to the training room and utilize the machines and chemicals to do the process myself. John, Butch. Doug & Debbie were AMAZING instructors. They made my experience one I will never forget!