Case Studies: Creating Web Case Studies That Drive Business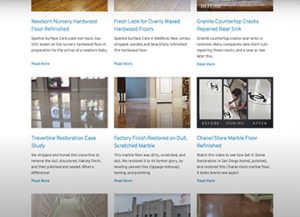 Course Description
Case studies are crucial for your business marketing strategy. In this course you will learn why case studies matter so much, what you can do on the job site that will ultimately help powerfully demonstrate and share the story of how you resolved the problem, and how to get the most mileage out of every case study added to your portfolio. Even if you plan to have a professional create case studies for your website, you or someone on your team will need to gather information from the client and capture compelling images or footage before, during, and after your work.
Course Content
Why case studies matter
Basic smart phone photography and videography features and settings
Tips for capturing the most compelling images and footage
Optional equipment
Overcoming obstacles on the job site
Workflow plans
Properly saving and sharing file via email or other platforms
How to get permission from the client/customer
How testimonials or reviews can be included in case studies
Special considerations for fabricators, installers, or students in other trades
Optimizing case studies for search engines: Keywords, Links, SEO, etc.
Optimizing case studies for conversion: Headings, telling a story, call to action, etc.
The importance of your client's words
How to use case studies to get a search-engine-indexed page for every area you serve, every type of service you provide, and every type of surface you restore
Link building opportunities
How to know whether you should create case studies in-house or outsource them
Marketing your case study to get the most mileage
Which jobs are the most appropriate for an investment in a video case study
Additional learning materials and downloadable resources
Video example of a real one-on-one session of SurpHaces-to-PRO Partner case study technical support
LinkedIn Certification
This course is crucial, whether you want to train yourself or someone on your team to create case studies or you want to delegate it to your team of creative and technical professionals at SurpHaces.
---
People who take this course often also take…
Sales and Marketing for Owners and Managers. This live webinar (two, 2-hour sessions) is designed to arm you with ideas, tools, and information to build your business. Learn how to build your referral base, effectively reach prospects, convert them to customers, and much more!
How to Start a Stone and Tile Restoration Business. A skilled trade can be a source of reliable income and professional growth. If you want to be self-employed and start your own business, this course will arm you with the information and resources you will need to get started.
Case Studies: Creating Web Case Studies That Drive Business
| | |
| --- | --- |
| Instructor(s) : | Alice Dean, Deborah Nelson |
| Tuition Fee : | $495 |
| Duration : | (2) 2-hour days; plus (1) 1-hour day plus additional self-paced video lessons |
| Course Type : | eLearning |