Planning Your Stay
DeBary, Florida provides plenty of opportunities for boating, fishing, other outdoor recreation. It's close to Daytona and New Smyrna beaches and less than fifty miles from Disney World and other theme parks. Bring your family with you so they can relax and have fun in Central Florida, one of the most popular vacation destinations in the United States. Perhaps you may have the opportunity to enjoy a few days with them before or after your training. View a Map and Directions to The Stone and Tile School, located at 230 Springview Commerce Drive, #500, DeBary, FL 32713. Feel free to give us a call at (407) 567-7680 for specific questions about your stay.
Transportation:
We do not provide transportation to and from the school. Taxi cabs and Uber are not readily available in DeBary and can be costly. We highly recommend a rental car. To avoid having to take a shuttle bus from the airport to your rental car, see the links below.
Orlando International Airport Rental Cars
Daytona Beach International Airport Rental Cars
Recommended Hotels:
Mention The Stone and Tile School at Hampton Inn DeBary for special rates.
Hampton Inn DeBary
308 Sunrise Blvd.
DeBary, FL 32713
(386) 668-5758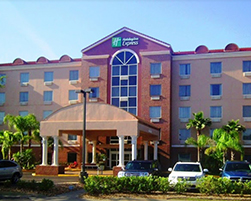 Other Nearby Hotels:
Travelodge Deltona
481 Deltona Blvd
Deltona, FL 32725
(386) 860-3000
Comfort Inn & Suites
590 Ava Ct
Sanford, FL 32771
(407) 585-1580
Nearby Restaurants:
IHOP
320 Dirksen Dr.
DeBary, FL 32713
(386) 668-9901
Swamphouse Riverfront Grill
488 W Highbanks Rd.
DeBary, FL 32713
(386) 668-8891
(Located in: Highbanks Marina & Camp Resort)
Antonio's Wood Fired Pizza
275 S Charles Richard Beall Blvd.
DeBary, FL 32713
(386) 668-2182
Goodfella's Pizzaria & Italian Restaurant
2955 Enterprise Rd.
DeBary, FL 32713
(386) 668-9199
4-B's Restaurant
173 S Charles Richard Beall Blvd.
DeBary, FL 32713
(386) 668-4586
Nonna Maria's Pizzaria
34 N Charles Richard Beall Blvd.
DeBary, FL 32713
(386) 668-9200
Yummy Dogs
577 Deltona Blvd.
Deltona, FL 32725
(386) 259-9729
Sonny's BBQ
1024 Saxon Blvd.
Orange City, FL 32763
(386) 775-9900
Saki Thai & Sushi Restaurant
2845 Enterprise Rd.
DeBary, FL 32713
(386) 668-5710
A&A Crab House
1200 Deltona Blvd. #59a
Deltona, FL 32725
(386) 259-4703
Sabor Latino Puerto Rican Cuisine & Gallery
777 Deltona Blvd.
Deltona, FL 32725
(386) 742-7469
The Original Anthony's Pizza
155 S Charles Richard Beall Blvd.
DeBary, FL 32713
(386) 668-9477
Monster Pizza
1200 Deltona Blvd. #5
Deltona, FL 32725
(386) 860-6335
Genuine Bistro & Lounge
2 S Charles Richard Beall Blvd.
DeBary, FL 32713
(386) 320-0217
Ruby Tuesday
1212 Saxon Blvd.
Orange City, FL 32763
(386) 917-0300
China 90
14 N Charles Richard Beall Blvd.
DeBary, FL 32713
(386) 668-8666
Subway Restaurant
50 N Charles Richard Beall Blvd.
DeBary, FL 32713
(386) 668-4901