Walls and Countertops
| | |
| --- | --- |
| Primary Instructor : | Butch Stallings |
| Tuition Fee : | $1295.00 |
| Duration : | 2-Days |
| Course Type : | Essential Hands-on |
Upcoming Course Dates
09-15-2018 through 09-16-2018
10-13-2018 through 10-14-2018
11-10-2018 through 11-11-2018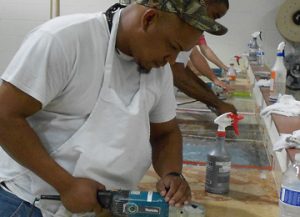 Course Overview
This course is two full days of intensive training on how to restore and refinish natural stone and quartz surfaces (engineered stone) such as walls, showers, and counter tops. The majority of both days will be spent doing hands-on training, with a little bit of classroom lecture time. You will gain the experience you need to go secure residential jobs, as well as commercial and hospitality jobs like restoring hotel vanity tops and shower walls. This course will prepare you to tackle these jobs with confidence. Each class is limited to five students, so there will be plenty of opportunities to ask questions and get individual feedback. You will have your own tools and your own workspace, as well.
Course Topics
Masking and protecting
Proper equipment use
Minor repairs
Honing, polishing and sealing of shower walls and countertops


(Granite, Marble, Quartz/Engineered)

Countertop seam repair
Average rating:

4 reviews

Lucky Day

It was a lucky day when I came across your marble and stone restoration school on line. It's been only 1 week or so, that I graduated in your school and now I am having meetings all over in Washington DC with high end commercial property management and real estate Agents. It's amazing the confidence I gained in your school in only 5 days. Doors are opening up left and right.I am looking forward to come back to your school to complete the rest of the classes.Ps; BTW I love your teaching style ! Less talk, lots of action!!!